What's New?
---
New Modules...
Known Persons Record Management (Remove Duplicates and Bad Records)
Medical Services Packages
Known Person Categorization is now Automated
---
New Features/Functionality...
Pen Status Enhancements to Kennel Management System - Animal Record
Pen Status Enhancements to Kennel Management System - Pen Status List
---
Canadian Version
Addresses use Provinces and Postal Codes, etc.
Even the Driver's License Support module can process Canadian barcodes.
---
New Pricing Model
New Prices
New Monthly Lease and Lease-to-Own options
---
New Version...8.0
New optional look and feel!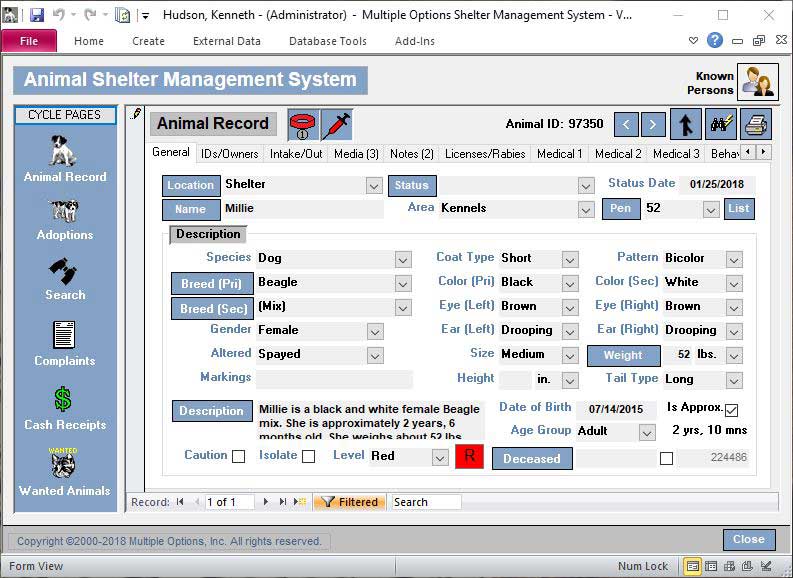 ---
Version 7.x.x
Even MORE features and functionality!
Animal Record

"Deceased Date" and "Status"
Guardian "End Reasons"
Guardian "Current Address on File" Notice
ID Neck Bands
Lost and Found Systems now integrated with Animal Record
Lost and Found Systems now proximity map based
Full PDF support
Follow-up integration in Notes System
Easier License Review
Medical Assessment records complete comorbity
Medical History Test Results enhanced
Health Status Exams can now use a "Normal/Abnormal" alternate format
Vital Statistics (Temp/HR/Respiration), Chief Complaint, History per visit added
Special Needs (Blind, Diabetic, etc.) added
Waiting List - added "Restricted Adoption"
Bite Case greatly enhanced to include full victim management;
eg. Rabies Prophylaxis, Post Exposure Counseling, Specimen Tracking, etc.
Custody Section

Adoptions

Option to e-mail forms to adopter (requires e-mail module)

Lost/Found Animal Modules

Completely re-engineered to make it even simpler and more effective
Proximity map based with images
User-Configurable Lost/Found Flyers

Known Persons

Transfer of Ownership - Multi-Animal Selection and Contract
---
Version 6.x.x

Code-named "Lighting".
(Note: We have never "code-named" anything before!)
This version is FAST!
Customers with million record tables are creating reports in seconds not minutes. Standard searches return results almost instantaneouly!
---
Access 2010+ Compatible Versions
Microsoft Access 2010, 2013, and 2016 compatible versions of our Shelter Management System have been released. Now featuring PDF support in the Document Managment System, a new Dispatching model, and more.
Hill's Science Diet Support

With this optional module the system will automatically ask if your Adopter would like to Opt-In to the Hill's Science Diet program.
If so it will validate the Adopter's information, like e-mail address, etc. and retrieve all of the relevant person and animal information and collect the Science Diet data so you don't have to.
At any time you can export your Science Diet compliant data for upload to Hill's.
The provided performance report (pictured below) will let you know how you are doing meeting your Hill's obligations.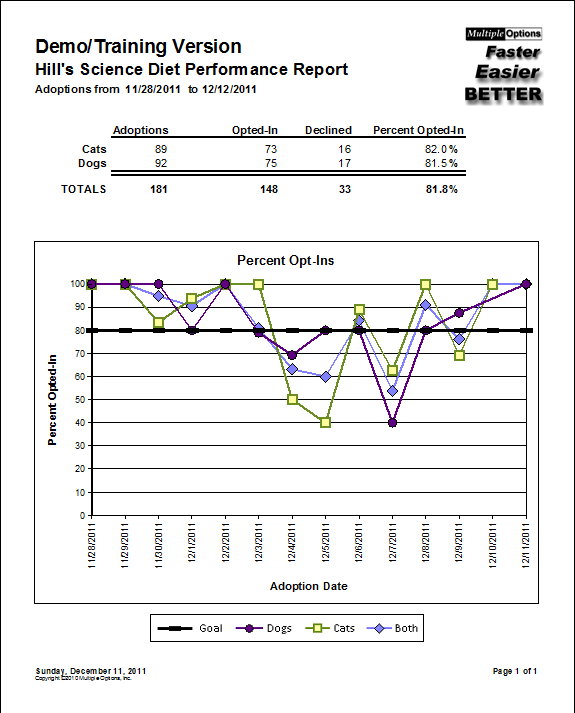 ---
Image Acquisition System - Version 2.0
The Image Acquisition System is now available directly from an Animal's record. Perfect for updating individual animals.
---
ImageWorks© X-Ray Interface
Some images copyright ImageWorks.
This interface module allows you to import x-ray images and their associated information directly into the animals record from the ImageWorks station. Unlimited images can be associated with each animal along with the date, operator, chart type and position etc. of each x-ray.
---
Multi-lingual Versions
Multiple Options' Shelter Management System is now available in German.
Spanish is soon to follow.
---
COMING SOON ...
---