What's New?
---
Version 6.x.x

Code-named "Lighting".
(Note: We have never "code-named" anything before!)
This version is FAST!
Customers with million record tables are creating reports in seconds not minutes. Standard searches return results almost instantaneouly!
---
Hill's Science Diet Support

With this optional module the system will automatically ask if your Adopter would like to Opt-In to the Hill's Science Diet program.
If so it will validate the Adopter's information, like e-mail address, etc. and retrieve all of the relevant person and animal information and collect the Science Diet data so you don't have to.
At any time you can export your Science Diet compliant data for upload to Hill's.
The provided performance report (pictured below) will let you know how you are doing meeting your Hill's obligations.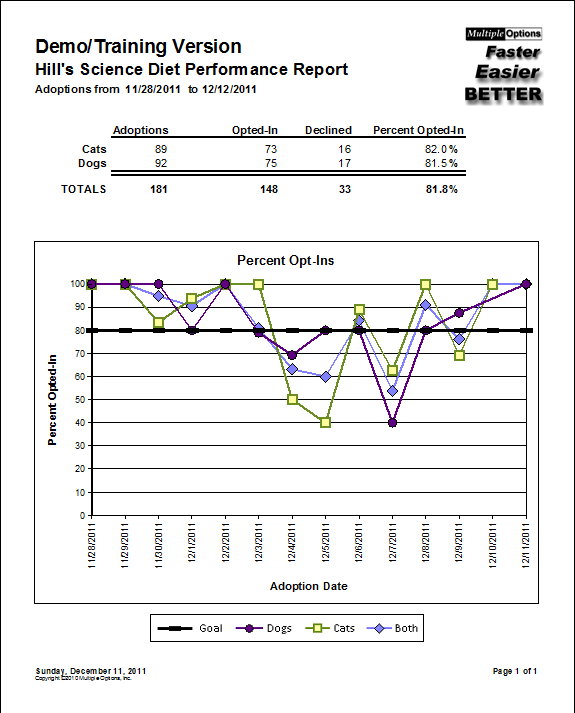 ---
Image Acquisition System - Version 2.0
The Image Acquisition System is now available directly from an Animal's record. Perfect for updating individual animals.
---
ImageWorks© X-Ray Interface
Some images copyright ImageWorks.
This interface module allows you to import x-ray images and their associated information directly into the animals record from the ImageWorks station. Unlimited images can be associated with each animal along with the date, operator, chart type and position etc. of each x-ray.
---
COMING SOON ...
---
Multilingual Versions
Versions of Multiple Options' Shelter Management System in French, Spanish, and German are currently in development.
Expect to see them in the fourth quarter of 2012.
---
Access 2010 Compatible Version
A Microsoft Access 2010 compatible version of our Shelter Management System is about to be released. Some of the new features available will be PDF support in the Document Managment System, a new Dispatching model and user editable forms.
Expected release is third quarter of 2012.